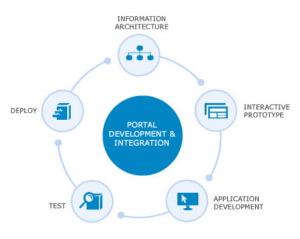 AscenWork Technologies has design and development expertise for Web Portal Development. We help companies create reliable solutions to manage their internal and external interactions, connect users and content, and facilitate operational activities while making them more engaging.
We deliver multipurpose enterprise portals, corporate Intranets, Extranets, and user-centric Workplaces with rich collaboration capabilities, automated workflows, and built-in analytics to address the widest range of business needs.
AscenWork specialises in Portal Development as per the organisations requirement.
Portal Development Services and Products
Portal Development Services
Portal Development Consultation
Portal Conceptualization and Design
Application Prototyping and Wireframe
Portal Development
Integration with Mobile Application
Types of Web Portals
Intranet Portals
Customer Portals
Vendor Portals
B2B Portals
E-Commerce Portals
Why Web Portal Development
AscenWork Technologies specialize in customized web portal development. We craft web portals from the ground up, uniquely tailored to meet your company's specific needs. Web portals we build apply to businesses of all sizes and industries. Our Solutions Result in strengthening your brand, drive better sales , and provide long-term growth due to increased productivity.