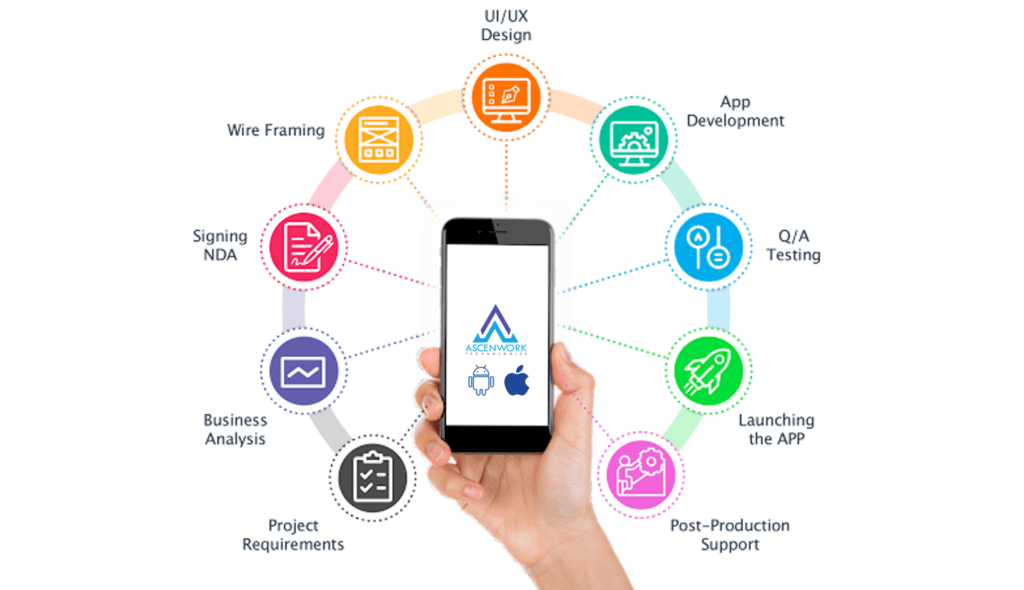 Mobile apps are expected to generate $300 billion in revenue by 2025.AscenWork Technologies are leaders in the arena of Mobile Application Development. Recognized as the best mobile app development company, we are experts in the development of mobile apps for B2B, B2C & B2E business environments.
The range of our multi-platform mobile app services fits everyone, from large enterprises & governmental authorities to small & medium businesses. Over the years, we have developed numerous mobile apps for different sectors ranging from healthcare to entertainment.
AscenWork Technologies is expertise in building Android and iOS applications supported by a strong cloud-based backend infrastructure.
Mobile Application Services and Benefits
Mobile App Development Services
Android App Development
iOS App Development
Web Application Development
IoT App Development
Flutter App Development
Benefits of Mobile App Development
Highly efficient business operations
A faster and simplified form of business
Real-time customer engagement
Enhanced brand awareness
Easy upgrading and maintenance
Why Mobile Application Development
AscenWork Technologies team of experienced app developers and UI/UX designers work together to complete various stages efficiently developing Mobile Applications.AscenWork Technologies app development team has extensive experience in native app development for Android, iOS, and Windows. Native apps can exploit the capabilities of the device, can target different screen sizes more easily, and support push notifications. They also offer the scope for an excellent user experience. Our team has experience in building apps for some of the leading brands across various sectors and offers highly customized solutions to achieve the best possible results.