About Us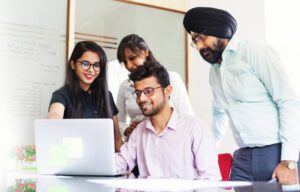 AscenWork Technologies extends end-to-end IT-enabled solutions and services to a broad spectrum of industry verticals ranging from BFSI, Healthcare, Real Estate, IT and Media – Entertainment, and many more. We have garnered rich experience and vast exposure to the outsourcing industry as well. We bring with us our strong team of highly qualified and experienced IT professionals with business domain acumen. Our Proven methodologies and technical competency enable us to render truly innovative, high-quality solutions that help businesses boost their ROI faster.
AscenWork has been exemplary in architecting Digital Workplace solutions for organizations over Microsoft SharePoint Development technology. What sets us apart is that we do not restrict ourselves to the requirement. Instead, we visualize what, where, and how the solution fits into the client's organization while staying within the allocated budget. We firmly believe and follow that Robust, high-quality tech solutions are the key pillars of our business.
As Ascend is to rise, AscenWork is to upscale in Work.Promising on its objective, AscenWork will always grow along with its stakeholder that comprise of its Employees | Clients | Vendors, and Business Associates.
We believe in growing together thus "Together we Ascend"
Our Core Values
Honesty
Working with integrity and honesty towards company goals.
Efficiency
Encourage to work with passion and to strive towards perfection
Quality
Maintaining strong customer relationships is the core of our company.
Helpful
Respect for every individual employees' views and opinions.
Our Vision
"Our vision is to empower manual business processes across the globe to be automated through technology. To keep up with the always-evolving world, we work in sync with the demands of the market as per the new technologies. Our endeavor motivates us to establish AscenWork as the "Most Preferred Software Solution Partner."
Our Mission
"To enable people and businesses throughout the world to realize their full potential effortlessly. Also shaping the future of the Enterprises by creating unprecedented value and producing better technology"