Time is essential in the hectic work world of today. That's where Power Automate comes in – a robust automation platform by Microsoft that allows you to streamline processes, eliminate manual tasks, and boost overall efficiency. With its intuitive interface and powerful capabilities, Power Automate empowers organizations to automate workflows, harness AI capabilities, and drive productivity to new heights.
Automation Made Easy
Power Automate simplifies the process of automating repetitive and time-consuming tasks. Whether it's data entry, approval workflows, or notifications, Power Automate enables you to create automated workflows with a few simple clicks. Automating these processes frees up time and resources, enabling your team to concentrate on more strategic projects.
Harness the Power of AI
Power Automate goes beyond traditional automation by leveraging the power of AI. With AI Builder, an intuitive tool within Power Automate, you can create intelligent workflows that incorporate AI capabilities. Extract insights from documents, analyze sentiment in customer feedback, or automate data classification – all without writing a single line of code. Power Automates AI workflows enable you to make data-driven decisions, unlock valuable insights, and enhance your overall business operations.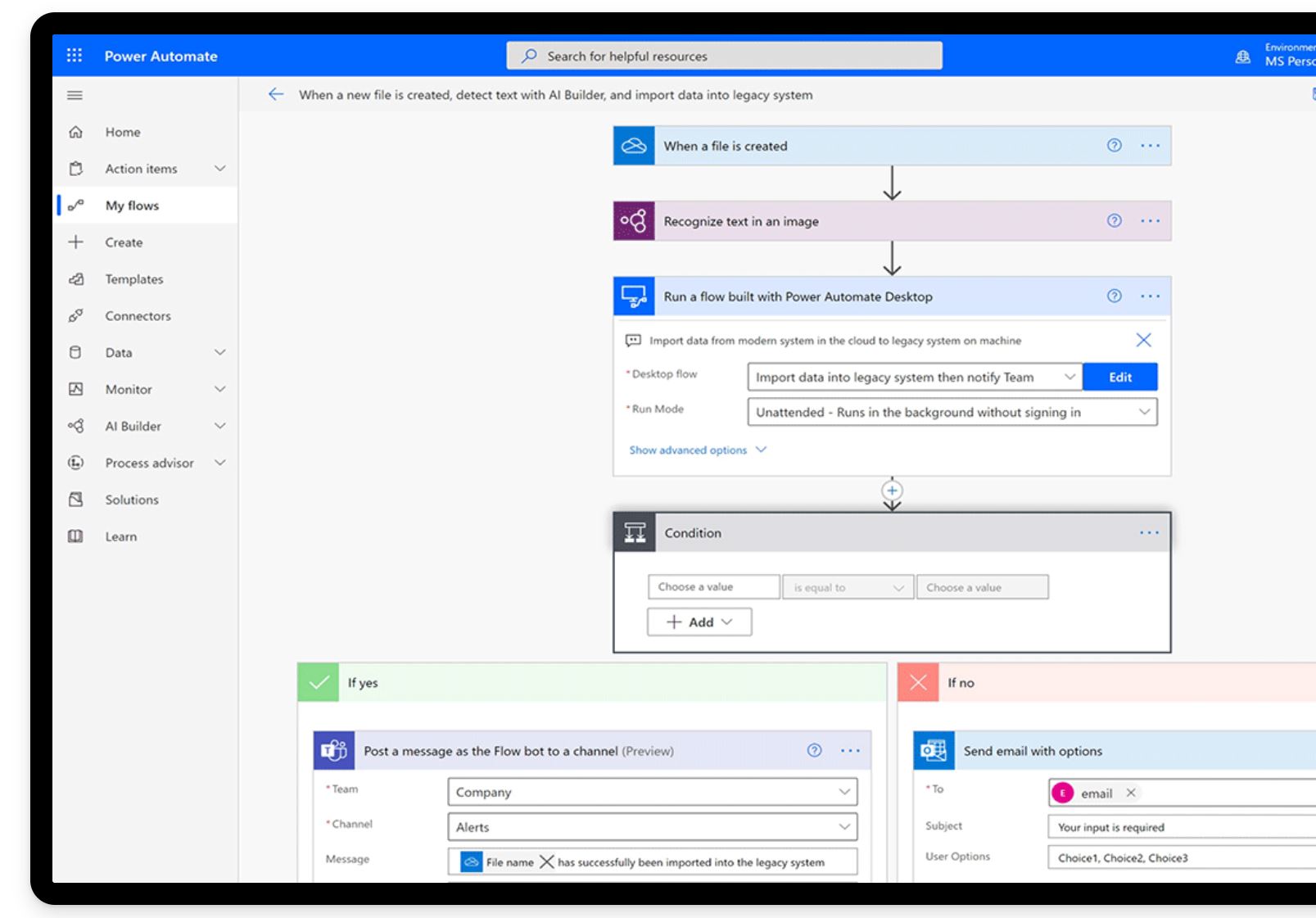 Boost efficiency
With Power Automate, you can supercharge your organization's efficiency. By automating processes, you reduce the risk of errors and ensure consistent execution of tasks. Power Automate seamlessly integrates with various Microsoft and third-party applications, allowing you to automate end-to-end workflows across multiple systems. Say goodbye to manual data transfers, notifications, and approvals, and embrace a more streamlined and efficient way of working.
Streamline Your Workflows
Power Automate provides a visual and intuitive interface that empowers both technical and non-technical users to create automated workflows. The platform offers a wide range of pre-built templates and connectors, making it easy to get started with automation. Whether you're a business user looking to automate a simple task or an IT professional aiming to create complex workflows, Power Automate caters to your automation needs with its flexibility and scalability. 
Seamless Integration
Power Automate seamlessly integrates with a vast array of applications and services, both within the Microsoft ecosystem and beyond. From Office 365 tools like Outlook, SharePoint, and Teams to third-party services like Salesforce, Slack, and Google Drive, Power Automate allows you to connect and automate processes across multiple platforms. This integration ensures a cohesive and connected automation experience, making it easy to create end-to-end workflows that span different systems and applications.