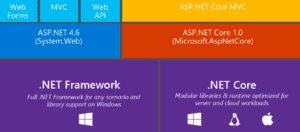 AscenWork provides end-to-end ASP.Net Application development services to helps you build simple, fast, and robust applications. Our experience of many years has enabled us to understand business challenges and deliver growth-centered results.
Consult us to bring technical expertise and in-depth industry knowledge to help achieve your business objectives with custom ASP .NET development services.
We develop solutions on .NET Core and .NET Framework solutions. Our software developers are well-skilled in a wide range of Microsoft Technologies like VB .NET, C#, MSSQL, ASP .NET, and Azure Portal.Hire our ASP .NET developers who excel in delivering the best-suited solutions as per your needs.
We helps companies to develop custom ASP.Net Applications on Microsoft ASP.Net platform
.NET Development and Application Services
.NET Development Services
ASP.NET Web Application Development
MVC.NET Application Development
.NET Core Development
ASP.NET Integration
ASP.NET Migration
ASP.Net Azure Development
.NET Application Development
Portal and Business Applications
SaaS-based Application Development
Re-engineering Legacy Application with .net
Integration with SAP / Oracle / MS Dynamics
Business Intelligence Tools and Dashboard
ERP / CRM Application Development
Why .NET
ASP.Net dominates the software development arena with the power of Microsoft .NET tools by taking advantage of the key features of this very versatile platform – Efficient code management practices, simplistic programming model, service-oriented architecture, easy deployment, and maintainability. AscenWork helps enterprises build critical business solutions with necessary customization and complete reliability, be it any size or segment of the business.
Our custom development capabilities provide an additional layer of services that allow rapid prototyping of integrated web applications..NET provides developers with integration into corporate directories and data sources through standards such as REST/OData/OAuth. Enterprise application developers use .NET security and information management capabilities across a variety of development platforms and scenarios.