Power Virtual Agents is a platform where you can create graphical interfaces and chatbots with not much coding or no coding. You can integrate a whole bunch of different pre-built connectors that are available and create custom types of topics and components that you need to suit your business requirements and essentially then automate that. For example, Power Automate can connect the bot to your application database, components, or solutions. Power Virtual Agents is a software as a service offering that can be embedded in your website. There's no real infrastructure to maintain or any complicated system requirements in terms of deployment. It's very user-friendly and intuitive for rapid Bot Development.
Get Started
Power Virtual Agents makes it easy for anyone to create and deploy chatbots without the need for extensive coding knowledge. With a user-friendly interface and a no-code approach, you can get started with bot development in no time. The platform provides pre-built templates, conversational flows, and a drag-and-drop interface, allowing you to build bots quickly and efficiently. Say goodbye to lengthy development cycles and hello to rapid bot deployment.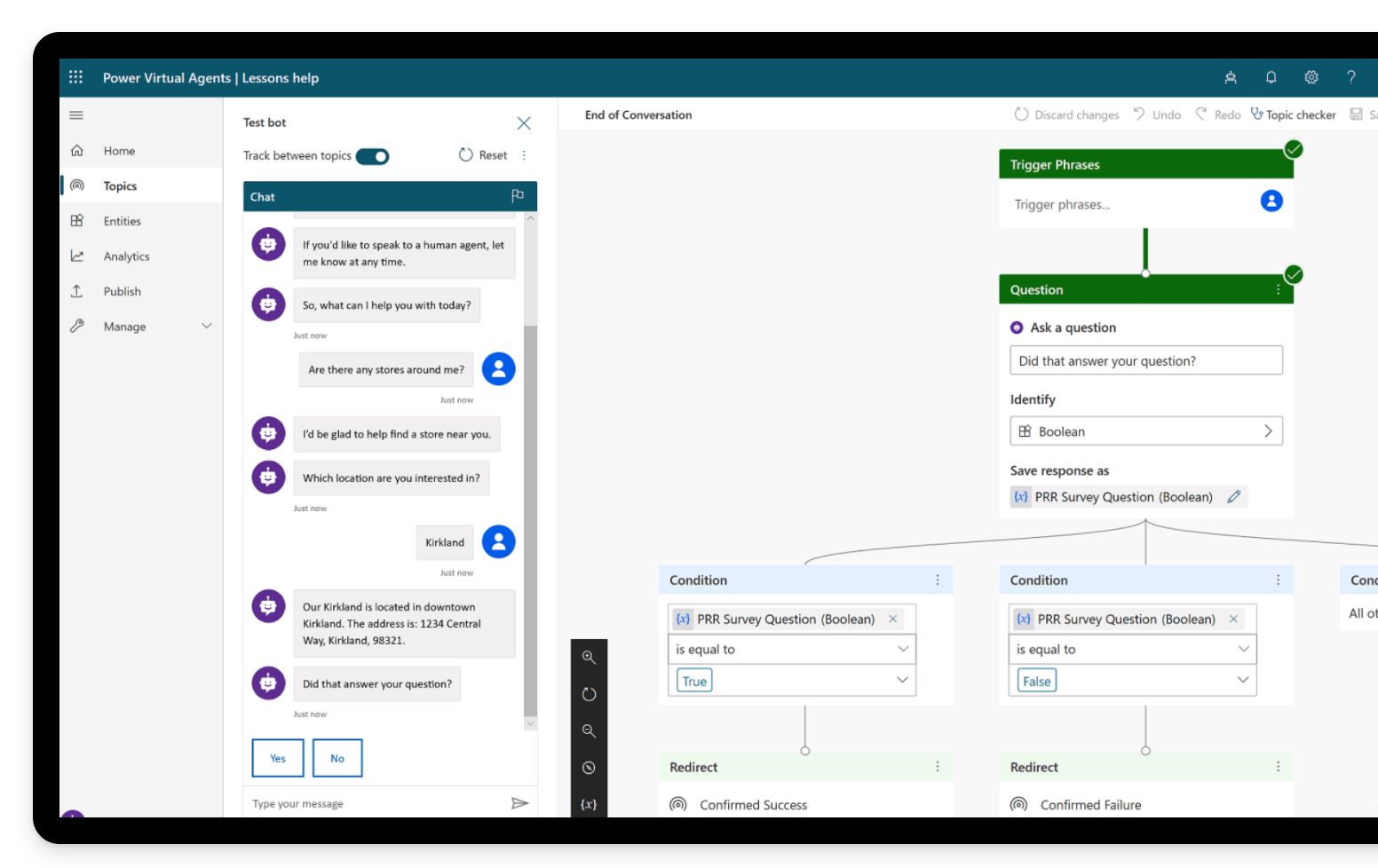 Take Action
Power Virtual Agents goes beyond simple conversational bots. It empowers you to create bots that not only provide answers but also take action on behalf of your customers. Bots can collect information, trigger actions in other systems, create support tickets, or even process transactions. By automating tasks and resolving issues through chatbots, you can enhance customer satisfaction, streamline processes, and reduce the burden on your support teams. 
Smarter Bots with AI Capabilities
Power Virtual Agents leverages the power of AI to create smarter and more intelligent bots. With built-in natural language understanding (NLU) capabilities, bots can comprehend user intent, context, and sentiment, enabling them to provide personalized and accurate responses. You can train your bots using machine learning to continuously improve their understanding and refine their responses over time. By harnessing AI capabilities, you can create bots that feel natural, conversational, and human-like