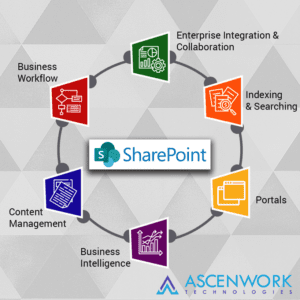 AscenWork Technologies SharePoint Workflow Management Application empowers your business operations. By automating key business processes, our application aligns business operations more closely to achieve your goals. Employees can easily manage their work without constant supervisor intervention. This makes employees happier and your workplace more peaceful, also adds more efficiency and better communication among departments.
AscenWork Technologies builds all the Workflow Applications on Microsoft SharePoint. Microsoft SharePoint is a web application that can easily customize to do whatever your business requires. So no matter the size of your industry or business, you can benefit from our Workflow Management Application.
AscenWork helps companies to build customised Workflow Application and automate your business processes.
Features and Benefits of Workflow Applications
Features
Dashboards
Process optimization
Dynamic routing and business rules
Ad hoc/dynamic assignment
Document Sharing
Smart Alerts and Notifications
Benefits
Improves compliance
Increases process productivity and efficiency
Streamlines and speeds up internal processes
Reduced paperwork
Efficient tracking of requests
Identify process bottlenecks and its rectification
Why Workflow Management Applications
Every company has a wide variety of processes to ensure tasks are completed and business goals are reached. Usually, these processes require human intervention to keep the flow of work moving forward. This could mean emails, pop-ins, meetings, calls, chat messages, etc. Thes manual tracking leads to mistakes, long turnaround times, non-compliance, and many other issues.
Truly managing your organization's workflow means documenting, automating, and improving the way work gets done.AscenWork's Workflow management application helps define, automate, and improve your organization's business processes to improve efficiency, reduce errors, and increase productivity.