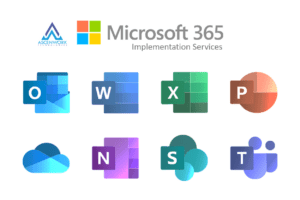 Microsoft 365 Implementation Services offered by AscenWork Technologies help you incorporate Microsoft 365 and also align to your enterprise productivity solutions.
Microsoft 365(formerly Office 365 or O365), is a cloud-based platform, offers a collection of 30+ tools that help create an advanced digital workplace for streamlined content management, increased productivity, and enhanced collaboration both for remote and in-office employees.
Due to widespread cloud adoption, as well as scalability, affordability, and rich functionality of Microsoft 365, the suite has become one of the leading enterprise platforms that allow implementing powerful collaboration solutions.
We enable the adoption of Microsoft Office 365 that includes all features – SharePoint, Exchange, Teams, Power Platform, and Yammer for business and relevant web apps to deliver outcomes. We combine a strong understanding of the Microsoft Azure platform with our own homegrown cloud adoption models to ensure a well-planned and tailor-made Microsoft 365 implementation strategy customized to your business.
AscenWork helps companies to leverage their existing Microsoft 365 investments and build application as per their requirements.
Microsoft 365 Services and Consultation
Implementation Services
M365 implementation with streamlined delivery models
Training users on Microsoft 365
User support to ensure seamless Microsoft 365 adoption
Support for planning and management of M365 cloud
Consulting Services
Planning and requirement analysis
Application Architecture and Deployment
Configuration and customization
Microsoft 365 migration services
Why Microsoft 365
AscenWork Technologies helps organizations of all sizes to build the foundation for increased availability through sustainable support to get the most out of their Microsoft 365 investment. Free up time and resources so you can focus on the digital transformation journey of your organization and improve business productivity, optimize costs and reduce risks. We help organizations compose a personal Microsoft 365 collaborative toolset depending on their business specifics and collaboration requirements. Our team provides consulting support at each stage of your Microsoft 365 Implementation Services, including deployment, customization, and user adoption.