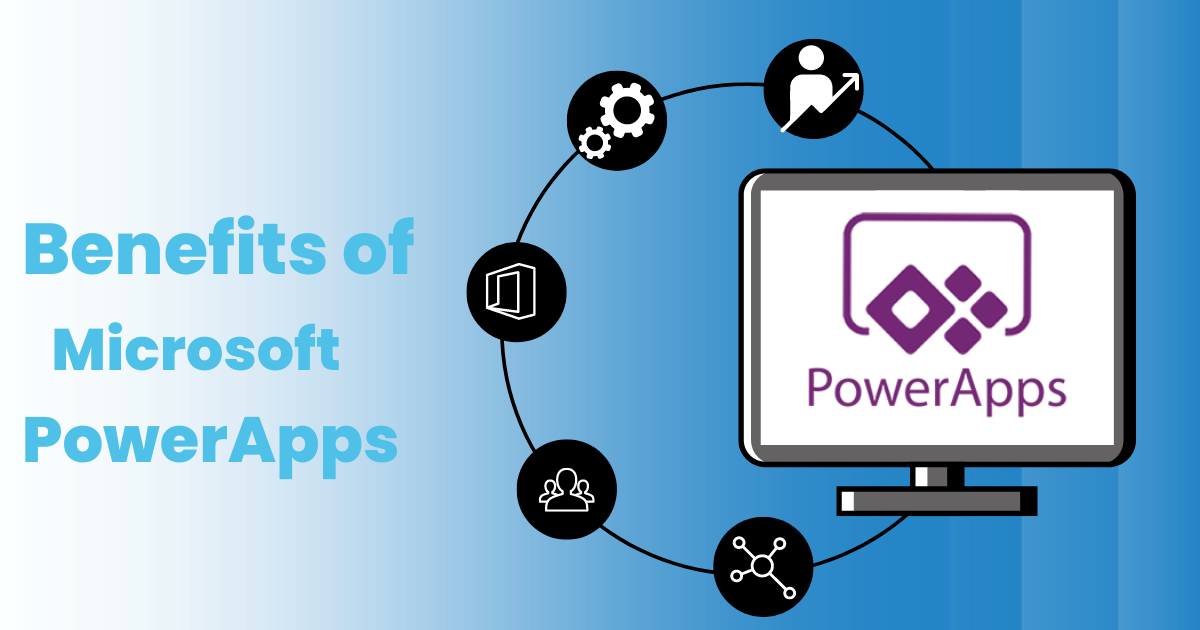 Fast-growing companies often face many challenges which don't have predefined solutions. Such things may happen because of a lack of collaboration, business process delays, or operations inefficiency because of tremendous paperwork. Streamlining your workflow and process with the existing data can be time-consuming and tedious for your company. Digital transformation has come up with a solution to all such challenges, and the Microsoft Power Platform has bought the desired revolution. In this regard, you can rely on Microsoft PowerApps. It is a cloud-based, low-code development platform that helps companies develop and deploy scalable business solutions. In addition, these apps can connect with data sources like Dynamics 365, Microsoft 365, and SQL.
Benefits of Microsoft PowerApps
App creation became easy.
Coding becomes difficult for many non-programmers, thanks to libraries, APIs, objects, and functions. Through power apps, users can easily drag and drop elements from the library to execute most of the programmers. Hence you don't need to understand the pros and cons of libraries or any framework- Power Apps will take care of all such things.
Speed up the process
In this era, next month will be too late for your clients. Through PowerApps, you can develop an efficient, functioning app. This platform removes all the time-taking elements from the app development process and replaces them with a straightforward drag-and-drop methodology. As a result, it gives the desired speed to your development process.
Easy standard connectors
It is hard to know how to connect data, especially for non-professional developers. However, with the drag-and-drop method, front-end development has become much easy. Also, with PowerApps connectors, users can connect data storage services with PowerApps.
Mobile Friendliness
It is a crucial factor of any app because of the increased use of mobiles and other smart devices. Microsoft PowerApps helps develop cross-platform apps, which give the same interface on all PCs, tablets, and smartphones.
Security
Microsoft PowerApps use secured storage solutions like Common Data services (CDS) or Azure active directory. As a result, it protects your data from cyber-attacks. Such security models also give you the power to control which information can be accessed by the end-users.
Microsoft Power Automate
Microsoft Power Automate is integrated into PowerApps. Such integration allows apps to react to updating data without the need to check the updates of apps frequently. Many PowerApps subscriptions contain several flows to be run monthly, and these numbers can be increased as needed. These flows can automate your business processes. For instance, you can create workflows to automate repetitive work, which improves business efficiency. Such automation can remove human intervention from the process to speed up the work.
Conclusion
Let's admit it; PowerApps is a new trend now. Most companies have either adopted this change or thinking about it. So, do you have to adopt this platform? Absolutely! It will be of great help to your organization. It will improve your business's efficiency and communication and help you remain ahead in technology. This platform is also an excellent means to get more exposure.
You can take help from Microsoft Power Apps consulting service in Mumbai to taste the real power of this platform.