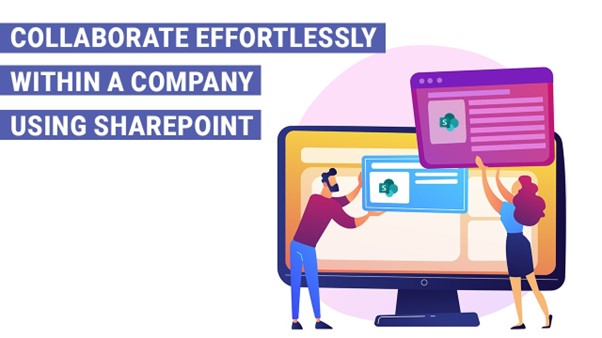 Collaboration and coordination between various company departments can be a tedious process. Information needs to flow correctly; failing which can cause errors at work.SharePoint collaboration is of the utmost importance for processes in an organization. It ensures continuity of operations and effective implementation of the same. The implementation team can do this by standardizing how all the departments get their information and having it accessible to everyone on the same platform.
Some benefits of Enterprise Collaboration are: 
Standard Operating Procedures

Cost Cutting

Avoid Confusion

Streamline Processes

Drive Innovation

Maximize Results
What Makes SharePoint Collaboration Easier?
The following are some tools that are an essential part of collaboration:
Document Sharing

Capturing Data through Lists

Microsoft Teams Integration

Teams Chat and Collaboration

Meetings

Content Sharing

Social Networking through Intranet and Yammer

Alerts and Notifications
These tools have made collaboration so much more accessible and efficient. It saves time, increases work efficiency, and streamlines processes. But what if many such tools and more were available on the same platform throughout the organization? A place where changes can be tracked and alerts can be sent, and tasks can be assigned
Regulating processes is the critical factor seen in most of the top companies for which SharePoint is the most preferred platform. It is used by more than 90% of the Fortune 500 Companies.
SharePoint is one such enterprise collaboration platform that allows employees throughout the company to work systematically. It is a web-based platform developed by Microsoft that is majorly used for document storage and management, and it is highly flexible.
It makes sharing and managing content, knowledge, and applications seamless and aids teamwork and collaboration. You can use it to store, retrieve, edit, share securely, and organize your data from anywhere.
SharePoint is an intranet, or internal internet system, that works like any other website. Internal organization employees can use SharePoint. It can also be extended to external users like clients, vendors, bidders, and others. In addition, different departments or teams can make their subsites within this intranet.
Who Can Use SharePoint?
Since SharePoint is a highly flexible system that offers a wide range of functions, it can be used by all organizations in terms of category and size. It is for anyone who has a business and is looking to streamline the way they collaborate.
Key SharePoint Features That Massively Aid Collaboration 
Mentioned below are some SharePoint features that can help you and your organization work more efficiently, cohesively, and quickly:
1. Central Location – SharePoint allows users of an intranet to store documents at a single location and provides features such as chat and video conference through Microsoft Teams. Users can be appointed tasks and given alerts as well. Since SharePoint is highly flexible, it can be customized according to the users' needs. All these features and more are present at one location. It allows you to engage with your organization from anywhere. At AscenWork Technologies, we do just that. We help individuals and organizations develop a well-suited SharePoint intranet customized for their specific needs.
2. Simultaneous Editing and Co-Authoring – You can work on a document and then directly save it on SharePoint. When documents are edited or updated, you can view who edited them and access the previous versions of the same document. This tool helps users to work together and be in the know-how of updates by getting alerts every time someone updates. In addition, SharePoint can automatically maintain various versions of the same.
3. Assign Tasks – You can assign a task to a person. Send an email notification when the ownership of the task is assigned. In addition, details on the task can be provided. You can also check progress on the tasks by marking "Completed" or "% Completed. "The updation of the task can be done by the user working on the task.
How We Helped A Client Streamline Their Business Processes
1. Our Client and Their Needs: Apar Industries Limited, a giant in the field of Oils, Power Transmission Conductors, and cables, wanted to streamline and automate its business processes. They have more than 3000 employees. Their main challenge was to identify a platform for constant application development. They wanted to create an office that was paperless and also wanted to add makers and checkers to various modules.
2. How We Helped: With the help of our team consisting of highly skilled business analysts, developers, designers, testers, and project managers, we were able to develop a prototype. We were then able to create a cost-effective application on SharePoint.
They were able to standardize on SharePoint-based Customized Application Development. The client used an end-to-end application development by AscenWork Technologies and collaborated on various processes through the application.
3. Result: As a result of the application development, they could reduce human errors drastically. They were able to improve compliance and integrate the application with SAP/ Tally. Our client was able to track approvals and change requests faster and receive email alerts and notifications.