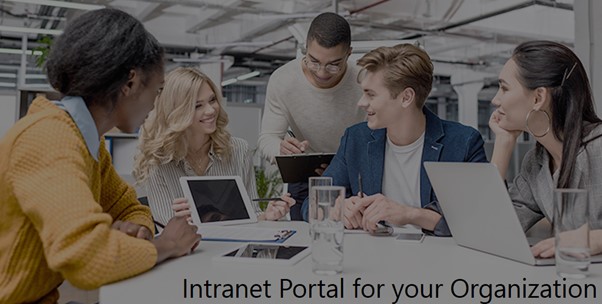 Intranet portals provide employees with many workplace solutions to overcome slow, old-style business practices. Without a collaborative portal, your Business won't survive and create a culture needed for your organization. Employees want to find and connect with other employees and get timely information to get their jobs done. They also want to get paid and have the HR tools available to receive the benefits that they are entitled to. Therefore, an intranet must be secure, easily accessible by employees, and easy to use.
Key features needed in an Intranet Portal are: 
Collaboration
Company Updates and News
Birthdays and Anniversary reminders
Easy document management
Excellent automation
Digital asset management capabilities
Collaborate with your vendors and customers with ease
Ability to store your assets in one place accessible from anywhere
Exceptional content management
Manages workflow and employees
For organizations looking to streamline their business processes better, there's no better tool than the SharePoint Intranet Portal. It not only allows employees to work from remote locations with minimal issues but can be used as a conduit for various business functions. It has become a significant part of the modern business landscape, and it's not going away anytime soon. It can take time to find the right platform for your organization, but the more effort you put into your search, the happier you'll be with the features once implemented.
"Empower individuals, teams, and organizations to intelligently discover, share, and collaborate on content from anywhere and on any device."
Get the best of the Intranet features developed for your organization by AscenWork Technologies. AscenWork specializes in SharePoint Intranet Portal development on Microsoft 365 SharePoint Online and SharePoint On-Premise Development. AscenWork has helped many organizations in designing their Portals.
Connect with us at [email protected] or contact +91 7977285342