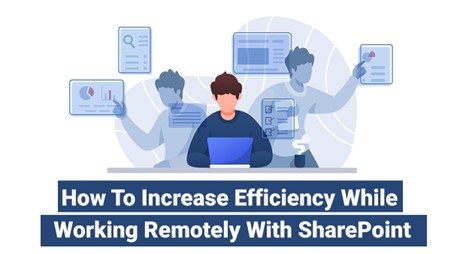 In the current scenario, COVID-19 has forced many businesses to move online and have migrated their employees for working remotely. According to a study done by S&P Global Market Intelligence, 67% of the companies have adopted remote work policies during this period and may decide to practice at least a few of these policies in the long run or even permanently.
There are many benefits of working remotely. Businesses save much capital on renting substantial office spaces and can build a diverse, more talented workforce. But it comes with its own set of challenges like ineffective communication and lack of cohesion amongst employees. Various tools such as SharePoint can ease these difficulties and help businesses be productive.
What is SharePoint?
SharePoint, a tool developed by Microsoft, is essentially a highly flexible document management workflow application and collaboration tool. It can be helpful to manage everyday tasks within a business while working remotely. Around 90% of the Fortune 500 Companies use this tool because it can drastically improve how a team works.
Constantly exchanging emails and waiting for feedback for improvement is tedious and can be eliminated using SharePoint. Furthermore, it aids an easy delivery of information and data to increase the working pace by streamlining access to this data. Thus, tools like SharePoint are the key to maximizing productivity in such unexpected situations.
Why use SharePoint while working remotely?
It is easier to connect and discuss ongoing projects in a small office environment and deliver feedback and responses to them. The larger the number of employees, the more difficult it gets to manage different projects and simultaneously be on the same page, especially while working remotely. SharePoint is a platform where you can collaborate orderly within your organization. It puts an end to hassle communications caused due to distance of employees and employers from one another. It helps to maintain order and flow of work in an uncomplicated way.
Functions of SharePoint that can be very helpful while working remotely
You can access and share files from anywhere as they are securely saved in the document library. Files from your computer can directly be uploaded to SharePoint.
Other team members can access and update files stored in the document library. SharePoint also allows multiple people to work on a document simultaneously. Previously edited versions can also be accessed if needed.
Create Lists to keep track of data like inventory, routines, and much more.
You can create a team site where the team members can work on a particular project together. Team members can share resources with others to increase efficiency. They will also be able to get notified when a task has been appointed to them.
Important Features of SharePoint
Lists are like spreadsheets in SharePoint. Multiple people can retrieve and edit them. It is helpful as these spreadsheets can be stored in a single location. The addition of rows and columns is possible to input new data.
Workflow is like a flowchart that consists of a set of tasks that will lead to results. It is a map of instructions about what is to happen at each process stage. A SharePoint workflow helps in saving time and effort while tracking the status of a process.
Search is a feature used to look for the desired data while considering permissions, context, and previous searches. It can be customized to support and process several scenarios.
Libraries are a place to upload, create, update, and collaborate on documents with teammates. In addition, multiple people can edit files and documents in the library simultaneously.
Project Site is a template used for collaborating on a project with team members. It provides a Project summary timeline, a document library, and a Newsfeed to communicate with your team.
Contact a SharePoint Consultant
Considering the benefits, SharePoint proves to be a very effective tool for those thinking of moving their business online or those already working remotely.
The world is moving towards a "new normal," and your business should.
Let us help you make the most of this situation so that you can adopt the best tools for your organization to work coherently even in such circumstances.
If you are interested in optimizing your work-from-home routine and structure, get in touch with an experienced SharePoint consultant like AscenWork Technologies. A consultant will be able to guide you through the process and give you the best possible feedback for your online business to work efficiently. At AscenWork Technologies, Digital Workplace solutions are built with the help of Microsoft SharePoint development technology.