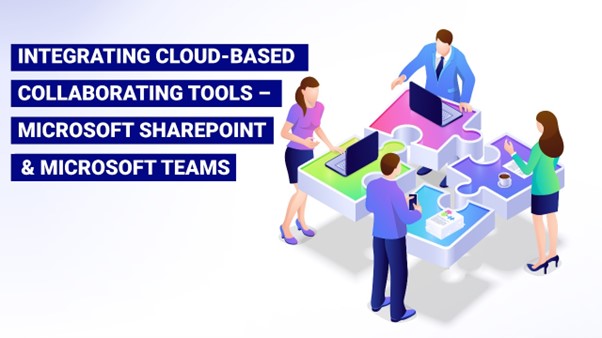 Many of our day-to-day activities have now moved on to the cloud-based collaborating tools, and Microsoft SharePoint and Microsoft Teams are leading amongst the most prominent tools you will come across.
So, are SharePoint and Teams the same?
There is much confusion surrounding Microsoft SharePoint and Microsoft Teams and whether or not they are the same. Microsoft Teams and SharePoint team sites are Microsoft's solutions for organized documents and information sharing in relevant groups. For example, users can create teams for the projects they are working on with their team members. Therefore, the documents won't get shared with the entire organization but rather with the team members. However, there has been confusion persisting because of the SharePoint team sites compared to Microsoft Teams.
SharePoint and Teams, although they are different platforms, SharePoint and Teams can work well together. SharePoint is the platform on which document management of Teams can take place. They do work better together. An advanced set of features can be integrated into Teams with SharePoint. On the other hand, Teams adds a user-friendly interface and extra collaboration-based features to SharePoint.
What is Microsoft SharePoint?
SharePoint is a collaborative platform that has been around for quite a while and is used by most Fortune 500 companies. Companies use it for secure document management and storage to make information storage convenient. With the capacity to handle large amounts of documents and data, working from anywhere has been made easier. Businesses of all sizes have been using this platform in various ways.
Key features of Microsoft SharePoint:
Manage content efficiently with the help of libraries and lists.
The intranet provides centralized access to all the documents and information within the organization at a single location.
Easy storage, sharing, and editing of files are some of the main features of SharePoint.
It has a powerful search tool, which can help surface the required resources from across the organization.
What are SharePoint team sites?
SharePoint team sites are spaces for teams to work together on a project within the SharePoint platform. A team site can be created for every project group working on it. This allows information to be shared easily with team members by adding to-do lists, events, and documents to the team site. To avoid over-consumption of irrelevant details, team members can also hide information inapplicable. For example, customized views can be set up if the team site leader wants the team members to focus on some particular information. It will inform the team members of what is immediately essential without looking around the entire site.
Key features of SharePoint team sites:
Lists can be created with the help of presets such as tasks, links, events, contacts, and announcements. They can help segregate and organize different types of data.
Add shared files to the team site's document library, which consists of all the files and hyperlinks to every file. It helps team members find any information quickly.
The number of emails exchanged by the teammates can be reduced by using discussion boards. For example, a team member can create discussions where any member can post and reply. This way, every group member is in the loop of the conversations happening within the team.
You can generate surveys that can significantly help in decision-making. Then, the team members can take the survey in polls, multiple-choice, or open-ended questions to conclude something.
What are Microsoft Teams?
Microsoft Teams is a chat-based collaboration platform. It is used for communication with the help of features like chat, video meetings, and file storage. This software and SharePoint are a part of the Microsoft 365 suite of applications. The Microsoft Teams application integrates with other Microsoft 365 applications for better communication and collaboration.
Channels can help the team pages uncluttered by creating different channels for different projects. It is beneficial when a group is working on multiple projects at once.
Tabs is a navigation feature that allows the team members to work with tools and data that they most interact with on teams. Custom tabs can also be developed and shared with the rest of the teammates.
Connectors connect services inside a tab so that the team members have easy access to information. Team members can receive updates from popular services like Twitter, Trello, GitHub, and various applications.
Conversational bots generate automated responses to questions and provide updates. For example, it can help you schedule a meeting by gathering information and inviting people or compiling a meeting report by asking for updates and generating one on its own.